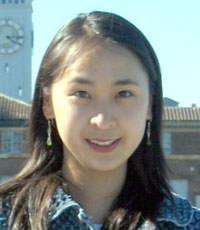 Jean Ahn is a 4th year Ph.D. student at UC Berkeley. She was born in Korea and received her B.A. and M.A. at the Seoul National University.
Recent awards include the De Lorenzo Prize and a fellowship to Aspen Music Festival. As a two time recipient of Korean Traditional Music Festival Award, she has also written many pieces for Korean and other eastern asian traditional instruments. Her music for Koto and electronics has been played in CNMAT (Berkeley) and CCRMA (Stanford) concerts.
"Nil-Lili" for solo piano. Using the theme of Korean tune "Nil-Ni-Ria", this music extends the piece by juxtaposing chromatic scales or pentatonic clusters. The piece has the joyful lightness of the original tune which is one of the most popular folk songs from Kyung-gi Province.