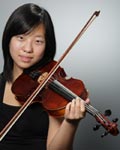 Laura Park, a freshman at William Fremd High School, has studied the violin since age 5. She is currently a merit scholarship student of the Music Institute of Chicago Senior Academy. She studies with Almita Vamos, Roland Vamos, and Marko Dreher. Laura has twice been the overall winner of the Walgreens National Concerto Competition Junior Division, in 2007 and 2005. She is a semifinalist of the 2008 American String Teachers Association National Solo Competition. She has also been the 1st prize winner of the 2008 Music Teachers National Association Illinois Junior String Division, 2007 Harper Young Artist Competition, the 2007 Society of American Musicians Competition, and in 2006, the Sejong Music Competition. In both 2008 and 2006, she won the Confucius Competition. Also in 2008, Laura was a finalist of the Chicago Symphony Orchestra Youth Auditions. She performed as a soloist with the Midwest Young Artist Concert Orchestra in 2005. Laura also featured as a soloist with the Harper Symphony Orchestra in 2007. She has also performed in the 2007 Young Steinway Concert Series. Laura has been featured on the 98.7 WFMT Radio "Introductions" and also on the ABC 7 Chicago News. She, along with her string quartet, was awarded the Bronze Award of the Junior Division of the Fischoff National Chamber Competition in 2008. The quartet also placed 2nd at the 2008 Jules M. Laser Chamber Music Competition. Laura studied at the Astona International Summer Academy in Switzerland and the Okemo Young Artist Program in 2008. She has participated in master classes with Ilya Kaler, Mark Caplan, and the Pacifica and Ying Quartets.

Hyo-young Ahn is a graduate student in music composition at the Korean National University of Arts. She won numerous competitions including Chorus Center competition. She is one of the Composer in Residence for the Korea Brass Choir. Recently her music was commissioned and performed by JeJu Wind Orchestra (Fantasy on Folksong of Jeju) and HanYang University Wind Orchestra (Korea Rhapsody).
"Ong-He-Ya" for violin and piano is a popular folk tune from the Kyung Sang Province. Farmers sang this song during their barley harvest while thrashing and milling barley. This tune is usually sung by two groups, with both groups singing phrases in response to one another in a synchronized rhythm while thrashing barley. Ong-He-Ya for violin and piano was written as violin and piano alternating phrases as the singers used to do. The middle section of this music used a melody from the Korean folk song "Sae-Ya, Sae-Ya" (see text of this song below). The last section repeats to melodies from Ong-He-Ya.