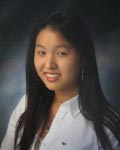 Christine Lee is a senior at Dublin Jerome High School in Columbus, Ohio. She began her study of cello at the age of eight. She now studies at the Peabody Conservatory with Alison Wells. Over the years she has attended a number of prestigious music camps, such as the International music academy held in Korea over the summer as the sole representative from Ohio. Christine has competed in many competitions and won recognitions such as Southeastern Ohio Symphony competition, Wright State University Solo Competition, Jerome High School Symphony orchestra, and American String Teachers Association(ASTA), which she was a national semi-finalist. She participated in OMEA regional orchestra and All-State orchestra over 4 years. In her leisure time, she prefers to continue her love and passion for music by playing the piano and listening to music.

Geon-yong Lee started to compose since age twelve. He played oboe in school band in Seoul Middle School. He studied composition with Dal-Sung Kim at Seoul High School of Music and Arts and with Sung-Jae Lee at Seoul National University. In 1976 he went to Frankfurt am Main, Germany, and studied composition with Heinz Werner Zimmermann at Frankfurter Musik-hochschule. After returning to Korean he taught composition in Hyo-sung Woman's University and Seoul National University. He moved to the Korean National University of Arts in 1993 and was named the president of the university in 2002. Lee is one of the most serious composers of our time in Korea. It is his dream to share the story of lives through music. He doesn't want to be alienated from his own music by burying himself in contemporary trends, and he does not want to be distanced by others. After returning from Germany he challenged the modernism which dominated Korean musical environment in early 1980s. He founded composer's group called The Third Generation. Since then he has devoted his effort in creating music that represents the unique identity of the third worlds and Korea. In early 1980s he produced mostly chamber works which include his experiments with Korean traditional styles and forms, such as Phrygian Sanjo, Cello Sanjo, Syrum-norum, and He-yoo-Gok. During late 1980s, while the political and social conditions of the country changed for the worst, he composed many vocal pieces with strong messages including Song of Yellow Jesus and Psalms of Wrath. Since early 1990s he has been focusing on the words like 'touching' and 'moving', and beauty of lyricism. His interest narrowed down to the localized beauty rather than the universal. All of his works performed today fall under the category of this inception.
"Ong" for cello solo is an adaptation of a folk song "Ong-He-Ya" from Kyung-Sang province. The folk song tune "Ong" is separated from "He-Ya" by 3rd or 4th, but in this piece the interval was widened to 5th. This way the melody becomes more natural. Farmers sang this song while harvesting barley when they flail ears of barley. This song creates an exciting mood because of the word "Ong-he-ya" as a refrain that is sung after each phrase of the text. It is sung in call and response form in which a person leads the song and the others response with "Ong-he-ya."