Concerto No 4 in D minor by Henri Vieuxtemps
Rachel Hsu, violin
Milana Pavchinskaya, piano
(Violin Elementary division 2nd place, 12/13/2010)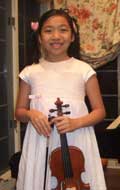 Rachel Shekinah Hsu, age 9, is a fourth grade student at Romona Elementary School in Wilmette, IL. She has learned violin for six years and piano for five years. Currently she studies violin with Desiree Ruhstrat and piano with Sueanne Metz. Rachel has won many violin competitions, including first-place awards in 2008 Confucius Music Festival and in 2009 SAM violin competitions. She received Honorable Mention in Walgreens National 2010 Concerto Competition String Category and was the winner of 2009 DePaul Concerto Festival for Young Performers having chance to play violin solo with the DePaul Symphony Orchestra. Rachel also won many piano competitions, including 1st place at ISMTA , SAM, Confucius Music Festival , Illinois Music Association, the MACMO Piano Contest, CAMTA Roberta Savler Piano Contest, Granquist Music Competition in Olympic Division, as well as gold medals at the NSMTA and CAMTA Sonata-Sonatina Festivals. She received Honorable Mention at the DePaul Concerto Festival for Young Performers. She was the winner in Steinway Young Artist Competition 2008, 2009, 2010 and her performance has been broadcast live on WFMT radio station as a winner in 2008. Her other interests include: singing, writing, drawing, reading and math.