Violin Concerto in C Major by Dmitry Kabalevsky
Hannah White , violin
Milana Pavchinskaya, piano
(Violin Elementary division 1st place, 12/13/2010)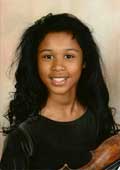 Hannah White, age 10, is a merit scholarship recipient and member of the Music Institute of Chicago's Academy program for gifted pre-college musicians where she currently studies with MIC artist faculty member Hye-Sun Lee. Hannah has been playing the violin for four years. She has played with the Waukesha Area Youth Orchestra Sinfonettia for three years where she was concert master two years. She also played with WAYO Chamber for two years. Hannah was the youngest member for both orchestras all three years. A member of Milwaukee Youth Symphony String Orchestra for a year as concert master, she made the rare jump to MYSO Philharmonia Orchestra. Hannah was selected to participate in the Chamber Ensemble Program both years at MYSO. Miss White played her first solo at the age of seven and has been featured in many solos since. In 2009, she placed second in the Lake Country Baroque Competition and won the Milwaukee Symphony Bach Double Competition for which she received the honor of performing with the MSO. In 2010, Hannah was awarded a gold plaque from Kettle Morraine Music Teachers Association for achieving the highest possible rating three consecutive years. Also in 2010, Hannah was the sole violin winner of four String Orchestras of the MYSO Concerto Competition. Her most recent accomplishment is the MIC Jr. Academy Concerto Competition. Hannah has performed at corporations and businesses to benefit UPAF, volunteered her time at various senior residences, and performed at weddings and other social engagements. Hannah enjoys being home schooled along with her two brothers. In addition to practicing her violin, Hannah White enjoys reading her Bible, painting, baking, biking, fishing, golfing and catching frogs at the creek.