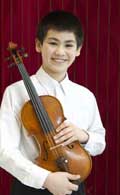 Zachary Brandon is a sixth grade homeschooler. He is a scholarship recipient of the Music Institute of Chicago's Academy program for gifted pre-college musicians where he studies privately with artist faculty member Hye-Sun Lee. He started his first private lessons with Mr. Jim Butler at the age of 4 1/2.
In 2009, he won Young Soloist Competitions in Kalamazoo Symphony, Kalamazoo Junior Symphony and Young Artist Competition in Fort Wayne, IN. He won first place in both Primary and Junior Divisions for 2010 Competition for Society of American Musicians(SAM). He has soloed with Battle Creek Orchestra, Kalamazoo Junior Symphony Orchestra and Kalamazoo Symphony Orchestra. He has performed for many master classes including Dr. John Kendall, a pioneer in Suzuki method in America, Mr. Marlone, concert master for San Francisco Ballet, Mrs. Bella Keys, and Mrs. Miriam Fried , and Mr. Nick Eanet of Juilliard String Quartet.
Zachary loves reading, swimming and soccer. He had participated Leroy Sparks Lake Swim (1.3 mi.) every year since he was 8 and won numerous medals.