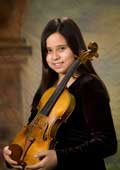 Gallia Kastner, 13 yrs, is a student of Almita and Roland Vamos at The Music Institute of Chicago. She commenced her private violin study with Betty Haag-Kuhnke at the Betty Haag Academy of Music at five and a half. She has won numerous competitions locally and internationally both as soloist and chamber musician. She is the winner of the 2010 Walgreens National Concerto Competition in the Open Junior Division, first place at the 2004, 2007, 2008 Chinese Fine Arts Society, first place at the 2007 Sejong Cultural Society Competition Junior Division and 2nd place at the 2010 Senior Division, first place at The 2010 Society of American Musician, and was placed third at the 2009 International Kloster Schontal Violin Competition in Germany.
Gallia has performed in WFMT 98.7 and Introductions, appeared with Rachel Barton Pine at the July 2010 Grant Park Summer Event and Today's Show, Music In The Loft, Kloster Schontal and Schwabish Hall Kultursiftung in Germany, was the featured soloist with the Nortshore Chamber Orchestra in 2008 and 2009 season performing the Mendelssohn Violin Concerto in e minor and Wieniawski Violin concerto no 2, she also has appeared as both soloist and chamber musician at the Young Steinway Concert Series in Skokie Public Library, and has performed for the Archbishop of Chicago, Cardinal Francis George, and many other venues during Summer Camps in Vermont, Pittsburg, and Heifetz Symposium in New London, Connecticut. Gallia also performs annually at the Chinese New Year Concert at the Yummy Bowl Restaurant in Highland Park.
She has the privilege to take master classes with Rachel Barton Pine, Vadim Gluzman, Arkady Fomin, Sherry Kloss, Ida Kavafian, Ivry Gitlis, and Joseph Silverstein.
She is an 8th grader at St James Catholic School in Arlington Heights. Gallia also serves her gift of music as singer and instrumentalist in the youth music ministry at St James Church and other churches.
Gallia performs on a copy of the "ex-Soldat" Guarneri del Gesu violin by Peter Seman, 2008, on generous loan from The Rachel Elizabeth Barton Foundation and was recently selected to receive a Career Grant from the REB Foundation.