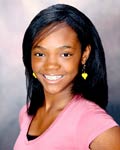 Mira Williams, 13, studies violin and viola with Marko Dreher. Under the baton of James Setapen, Mira serves as principal violist with the Junior Academy of the Music Institute of Chicago (2008-2011), where she is a William Warfield scholar. She has participated in master classes with Heidi Castleman, Almita and Roland Vamos, David Bowlin and Brian Culbertson. Before joining the Academy, Mira served as principal violist for the Chicago Youth Concert Orchestra (2007-08) and concertmaster for the Chicago Youth Debut Orchestra (2005-06), both under the direction of Terrance Oliveras-Gray. In 2010, Mira was a first place winner of the Junior Academy's Concerto Competition (viola). She won 2nd place in the Sejong Cultural Society's Music Competition (violin) and Honorable Mention in the Early Music Category of the Midwest Young Artists (MYA) Walgreen's National Concerto Competition (viola). In 2007, Mira received Honorable Mention in the 23rd Annual Music Festival in Honor of Confucius (violin).
Mira is violist for the Okemo String Quartet. The quartet, coached by Mr. Dreher, advanced to the quarter finals of the 2010 Fischoff National Chamber Music Competition. As a result, the group's members, all 12, became its youngest competitors in 75 years. In the summer of 2010, the quartet performed at City Hall in Ludlow, Vermont and on Vermont public television. In 2005 Mira joined other musicians in "Christmas Glory," where she performed onstage with music icons Al Jarreau and Brian McKnight. From 2008-09 she performed solo at Musician's Network MECCA events and appeared twice in 2010 with Emmy Award winning vocalist Joan Collaso.
In 2004, Mira founded the chamber group SugarStrings (www.SugarStrings.com) with her cousins, Adé and Ayanna. From 2009 to 2010, the trio was featured on NBC Nightly News with Brian Williams, WTTW's Chicago Tonight, NBC5 Local News and ABC7's "Someone You Should Know." The Milwaukee Journal Sentinel (2009), Ebony magazine (2007), and the Chicago Tribune (2006) also have highlighted the trio's accomplishments. SugarStrings has been featured at Chicago Symphony Orchestra and Milwaukee Symphony Orchestra events, performed concerts at Ravinia Music Festival, played the intermission for Nadja Salerno Sonnenberg at Dominican University and opened for jazz notaries Rachelle Ferrell and Kirk Whalum. The group has performed at numerous civic and charitable events, including: University of Chicago's Volunteer Reception; Haiti Relief Effort, Omaha, Nebraska; the City of Chicago's September 11th and M.A.D.D. annual commemorations; Historical Black Colleges and University's (HBCU) reception; Living Room Café Soup Kitchen holiday dinner; Chicago Foundation for Women's Annual Luncheon; WNBA Chicago Sky games; Target/Chicago Chamber Musicians' Family Concerts; Chicago Half Marathon and the 100th Anniversary Convention of the Rotary Club International. SugarStrings' is scheduled to make its radio debut January 8, 2011, as invited performers on WFMT's "Introductions." Mira is a charter member of the Junior Division of the Chicago Music Association.
Mira enjoys, spending time with her family and friends, swimming, trying new things, and reading.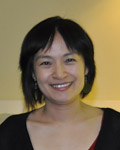 A native of Korea,
Eun Young Lee
graduated from Ewha Women's University with undergraduate and graduate degrees in Music Theory. After teaching music in universities across Korea, she moved to the United States in 1999, where she did graduate studies with David Noon at the Manhattan School of Music. Currently Ms. Lee is a PhD candidate at the University of Chicago, where she is a recipient of the Lowell C. Wadmond Award, Doolittle Harrison Fellowship and Humanities Grant. Her current teachers include Shulamit Ran, Marta Ptaszynska, Jan Radzynski, Bernard Rands, Howard Sandroff, and Kotoka Suzuki.
Ms. Lee has won multiple awards for her music, including first prize for the Tsang-Houei Hsu International Music Composition Award; the 2008 Max Di Julio Prize at the Nevada Encounters of New Music (N.E.O.N.) Festival; Honorable Mention in Great Wall International Competition; the first regional award in the SCI/ASCAP student composition commission (2006, 2009, 2010). Additionally, she was a recipient of the MacDowell Colony and Virginia Center for the Creative Arts fellowships, and the Gerald Oshita Memorial Fellowship for the 2010 Djerassi Resident Artist Program. Her music has been heard through Art of the States, EBU (European Broadcasting Union), and KBS (Korean Broadcasting System) programes, and is featured in the SCI Journal of Music Scores (Vol. 41) as well as CD series (No.23). Prominent ensembles including the New York New Music Ensemble, eighth blackbird, Pacifica String Quartet, ALEA III, North/South Consonance Ensemble, Timetable Percussion, and Geum-Pa Flute Ensemble have performed her music. Her instrumental pieces, multimedia pieces, computer music, and film scores were featured in festivals and concerts in many countries, including June in Buffalo, SCI Conference, SCI National Conference, MGMC, Czech-America Institute in Prague, Korean Music Expo, 60X60 Project Vox Novus, Hawaii International Conference on Arts and Humanities, Gene Siskel Film Center, Pinocoteca do estado de Sao Paulo in Brazil, and Music09 in Switzerland. In 2008 she participated in the Atlantic Center for the Arts as an Associate Artist-in-Residence to Master Artist Augusta Read Thomas.
---
Sae-Ta-Ryung (violin junior) is a delightful folk tune from the Namdo province describing the songs of several types of birds and imitating their flight. This work was completed at MacDowell Colony in May 2010.