Christi Park, age 18, currently studies with Carnegie Mellon Violin Professor, Cyrus Forough. She is a senior at Hinsdale Central High School in Hinsdale, IL. Christi began her studies at the age of 3 and is currently a participant in Chicago Symphony Youth Orchestra. She has also studied piano under Emilio del Rosario. Christi has been awarded many times for her playing from past competitions such as the SAM competition for violin. Recently she was awarded first place of the 2012 Chinese Fine Arts Society Competition for violin.
In her spare time, Christi enjoys reading, travelling, playing piano, teaching violin, and performing for music fundraisers and community outreach concerts.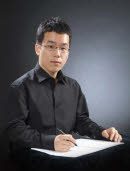 Jeongkyu Park was born in Seoul in 1981. He graduated from the Korean National University of Arts (KNUA). He also graduated from the graduate school of KNUA.
He won the first prize at the Dong-a music competition in 2003. His music has been performed in the 2004 Tongyeong International Music Festival and 2004 Korea Creative Choral Festival by the Seoul Chamber Orchestra, Seoul Metropolitan Chorus, Incheon City Chorale, Daejeon Municipal Chorus, U.C. Irvine Choir, World Vision Korea Children's Choir, Quarter-X, Ensemble Geomun, Muse Ensemble, and KNUA Ensemble. He composed the " Toad " in 2005 for the 1st Sejong International Composition Competition where he won the first prize.
---
Toad
by Jeongkyu Park
"Toad" for violin solo. A piece of eight variations, it is based on a theme derived from a Korean traditional children's song ""Du-Gup-Ah, Du-Gup-Ah" (Toad, Toad). It starts with a slow tempo, gradually accelerating to finish with a strong and stormy ending.